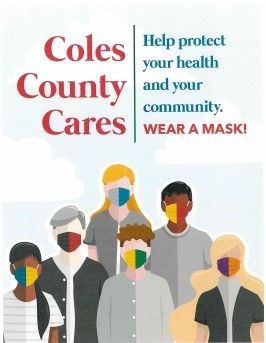 Calling all Substitutes! If you or someone you know is interested in becoming part of the CUSD#1 family as a substitute, we are hoping to add a few more subs to our team before returning to in-person learning.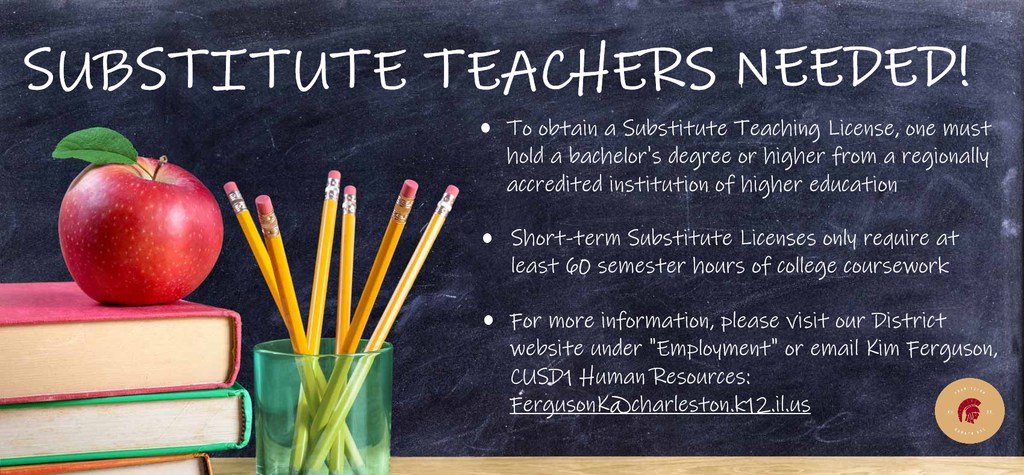 We are actively preparing for the return to in-person instruction beginning on November 4, 2020, unless there is an order from the Illinois State Board of Education and/or the Governor's Office or there is an emergency school closing made in consultation with, or at the direction of the local health department, emergency management agencies, and Regional Office of Education. Families will have the choice to 1) send students to school for in-person instruction (using the daily early dismissal schedule) following required safety guidelines OR 2) continue to participate in remote learning. In order to adequately plan, we ask that you complete the attached form with your preference. Please read the attached form for more information. All families must complete one form for each child, by October 5th. If you need more information about district or school re-opening plans or tasks, please visit our district website or call your child's school. Form link:
https://forms.office.com/Pages/ResponsePage.aspx?id=ZVmoXzSDt0eo3d9OfKD91Sl4MXJkEZZAoTF45J5-XqFUOEVJNjNQUlBRTDVOVjlOSkJJVkk2MExJUy4u
Thank you for taking the time to provide us with important information, as we plan for the best ways to support your child(ren)'s education.

People's Bank & Trust recently donated $5,000 to Charleston CUSD #1 in support of its schools during the COVID-19 pandemic. Pictured from Left to Right are: Kacie Rankin, Consumer Banking Officer at Peoples Bank and Trust; Kristen Holly, Asst. Superintendent of Curriculum and Instruction; Dr. Todd Vilardo, Superintendent; Chad Burgett, Asst. Superintendent for Business Services; Kathleen Anderson, AVP and Branch Manager at Peoples Bank and Trust Thank you, People's Bank & Trust for your support!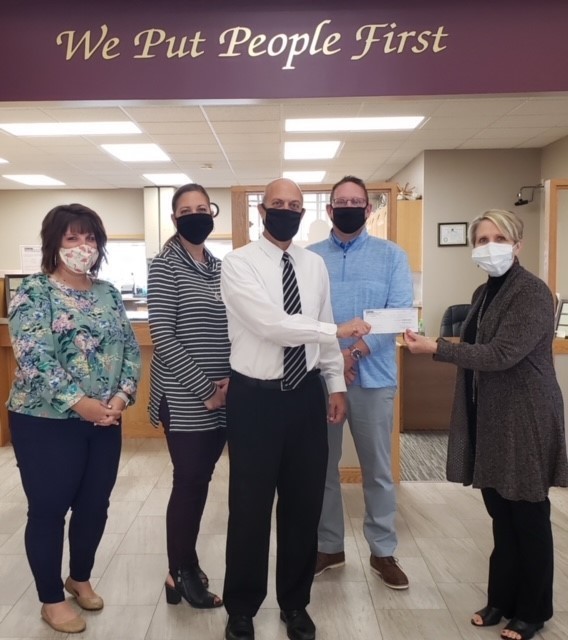 We will post weekly updates on the status of tasks related to the return of in-person instruction in November. The first week's update is posted here. If you have any questions, please contact your child's school for more information.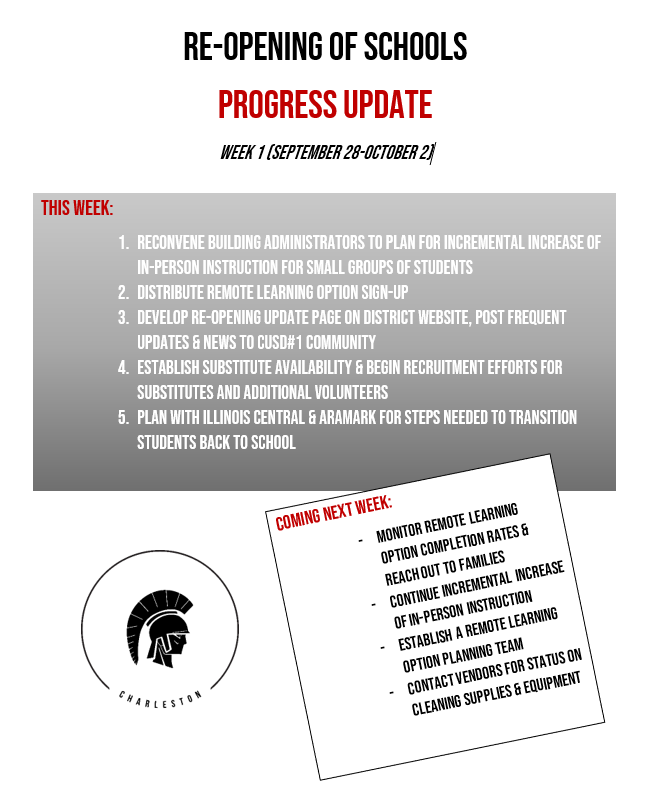 Thank you to district administrators, staff, and Illinois Central bus drivers, attendants and staff for their efforts in distributing over 500 meals to district families every Monday and Thursday. If you have questions or would like to request to have meals provided, please call 217-549-0276.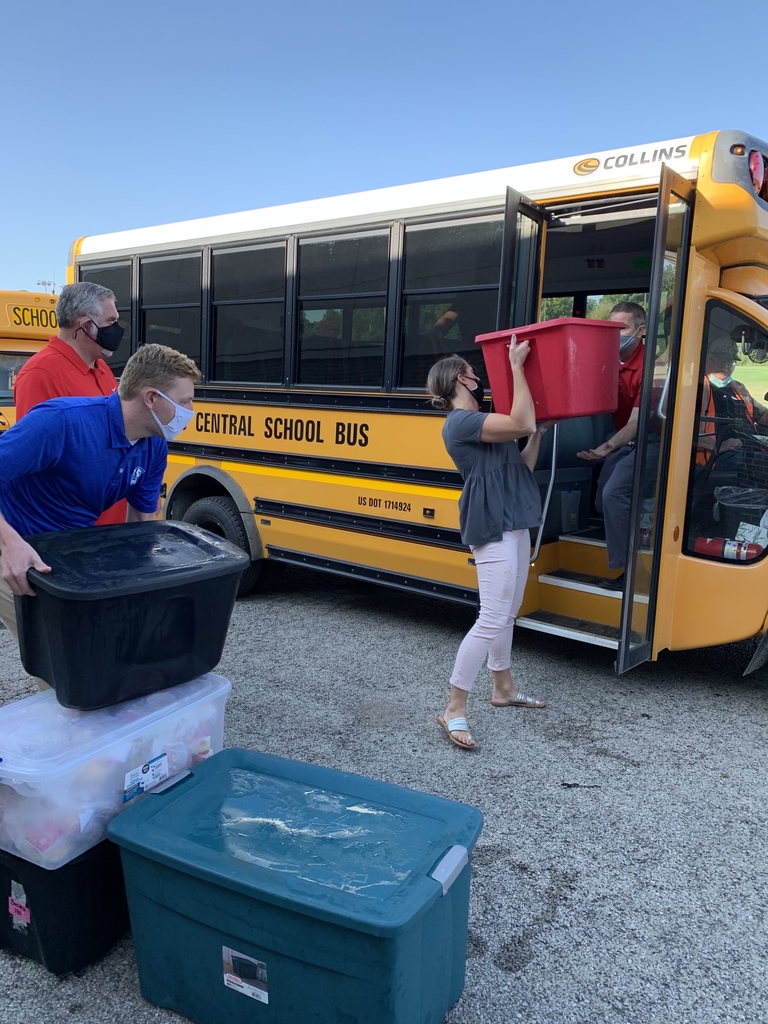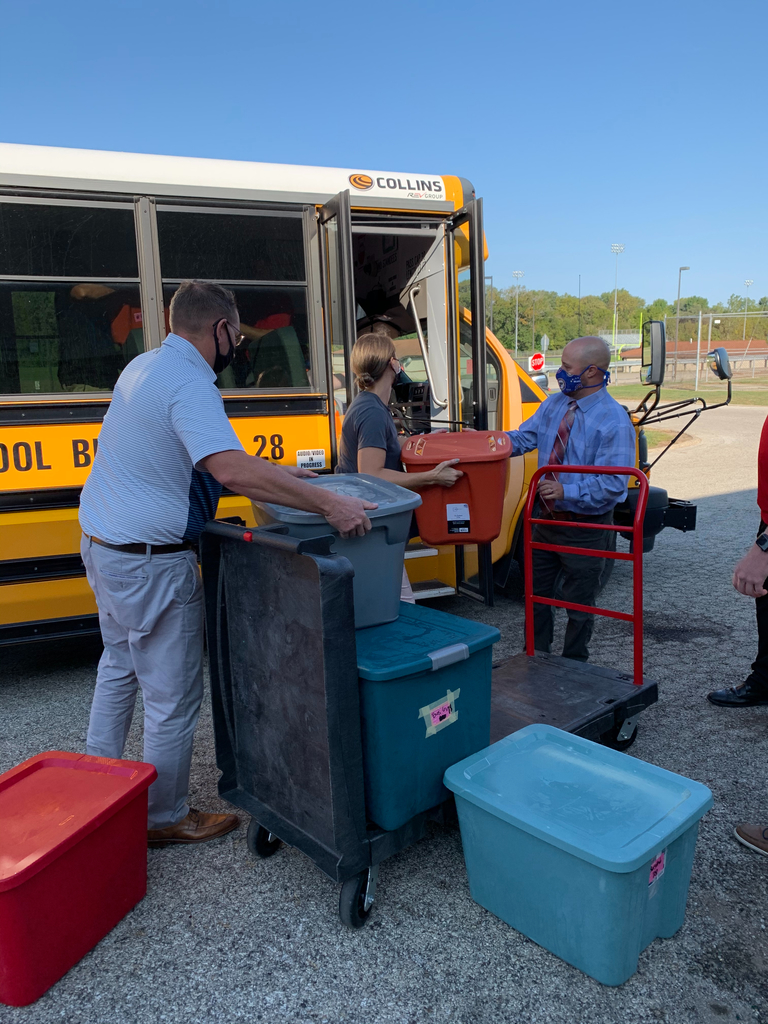 If you are experiencing connection issues on your school device, try disabling global protect. Directions here:
https://5il.co/l6pm

We are aware of the connection issues this morning and are looking into the problem. Thank you for your continued patience.

Thank you to everyone who participated in Wednesday evening's Special Meeting of the Board. From investing time to write, call, attend or listen, your input and engagement is valuable in helping us bring our school community's collective best for our youth. Few like remote learning; most want our kids in school; everybody is making sacrifices. Staying positive with and supporting each other, we will get through this together.

Empower login issue resolved.

We are experiencing error messages when accessing Empower and have contacted tech support. We will send an update when the situation is resolved.

The Charleston CUSD #1 Board of Education has scheduled a Special Board Meeting for this Wednesday (September 23) at 6:00p.m. at the Charleston High School Auditorium. One item on the agenda pertains to "Consideration/Action on School Reopening Plans for In-Person Instruction." As with recent practice, the district will continue to limit in-person capacity to 50 persons at Wednesday's meeting, and the public can listen to the meeting through the Webex system (call in details on the agenda). Holding the meeting at the auditorium will afford people a better opportunity to physically distance for social distancing purposes. The meeting's agenda will be posted on our district's website, and the staff and public can participate in the public comment portion of the meeting either in person or via email or postal mail before 4:00p.m. on Wednesday.

The Centers for Disease Control and Prevention (CDC) has released indicators that schools are to use as one tool to help when making decisions about in-person learning. When applying local data available on September 17 about community spread of COVID-19, the assessment of our risk falls in the "Higher Risk of Transmission in Schools" level. Thank you, Coles County, for working together to reduce and stop the spread of COVID-19 in our community by following the 3 W's: Wear a mask if you are out in public, Wash your hands frequently, and Watch your distance by social distancing!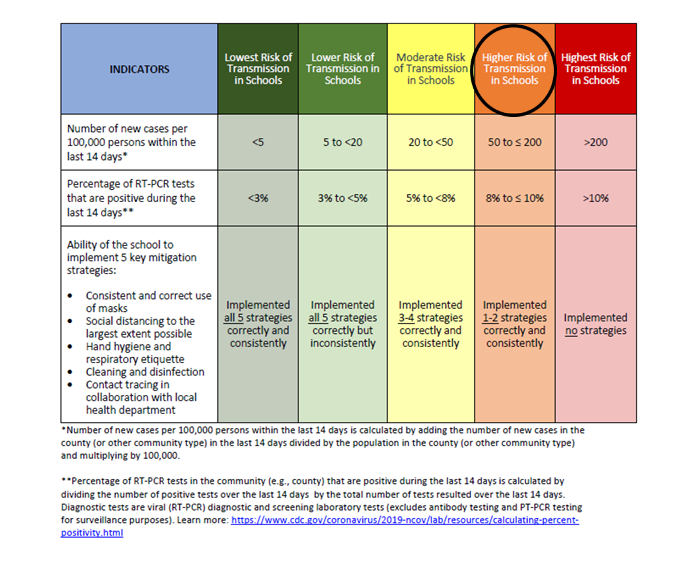 EIU is celebrating their 125th anniversary this year! Click here if you'd like to order a Homecoming t-shirt:
https://5il.co/l3ou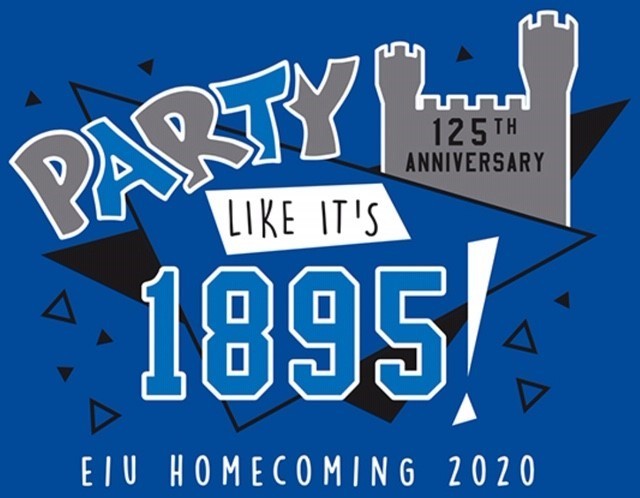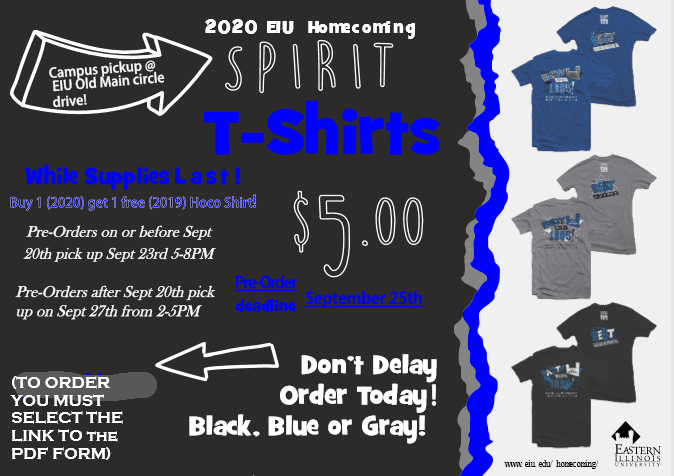 The Illinois State Board of Education would like to invite the parents and guardians in our school community to the first Statewide Return to School Family Convening, happening via Zoom on Friday, 1:30 to 3:30 p.m. This event is an opportunity for parents, caretakers, and students to meet with state agency and with parent and student advocacy group leaders.  The ISBE hopes to hear from attendees about their experiences with school during COVID-19 and asks for their feedback on ISBE's guidance. They also will share with participants about services and supports available to them. To help all interested families participate, this event will be hosted in English, with real-time translation into Spanish, Polish, Urdu, Arabic, and American Sign Language, plus captioning. The event is being hosted in partnership with several organizations, including Illinois PTA, Community Organizing and Family Issues, Voices of Youth in Chicago Education, and the co-chairs of several statewide Family And Community Engagement committees. Sergio Hernandez, Jr., ISBE's Director of Family and Community Engagement, will co-chair the event. The registration link is  
https://tinyurl.com/y2vqlu6s
. The event will be recorded to make it accessible for families who cannot join live.