Just a final reminder to all current parents of CUSD1 students: If you have not already completed the Illinois 5Essentials Survey, please consider giving us a couple minutes of your time today to help us gain more results from the parent perspective before it closes tonight. Simply visit the following link:
https://survey.5-essentials.org/illinois/
In our continuing efforts to make our schools great places to be, we sincerely value your opinions and wish to thank all participants!


CMS 8th graders Tyler Starwalt and Jacob Drake stopped by our Central Office with teacher Ms. Schmitz on Community Service Day. CMS students learn and lead every day!

What a beautiful winter morning! Road crews have been out pushing some snow and treating roads. We are holding school today! Gonna get cold, so bundle up and be safe! Let's learn and lead today!

District officials are monitoring weather forecasts for tonight and tomorrow. We prefer to make school closing announcements the day before a closing, but that's not always feasible. While we desire to hold school, we require to hold safety of all as a top priority. Stay tuned!


Help Vocal Music programs…order a Singing Valentine today.. Call Tom Woodall 217-549-6671 and he will schedule a great barbershop quartet to sing (takes 3 minutes) for individuals or groups. They can sing in Mattoon and Charleston from 8 AM to about 2:30 PM…(schools, nursing homes, business, residences, etc. Recipients get a nice box of candy, a nice card, two love songs and a photo of the event = $40 All the profits to local HS Vocal Music Programs.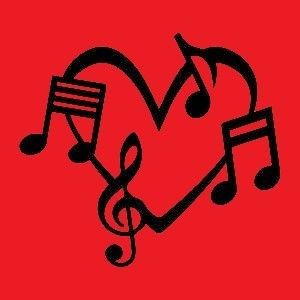 Check out the latest edition of our District Newsletter!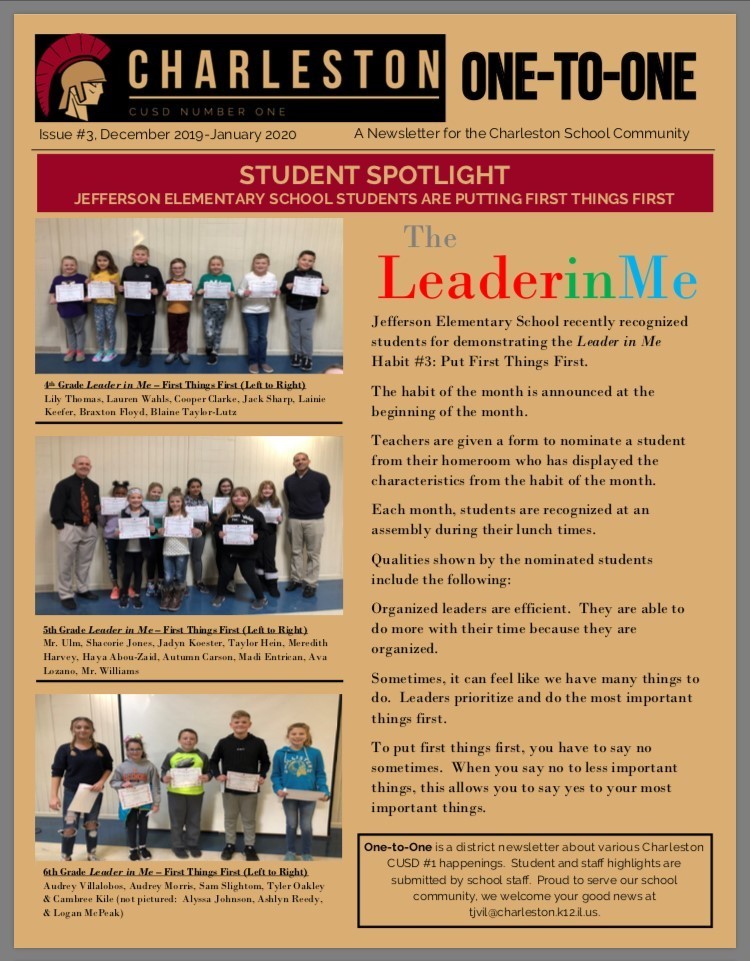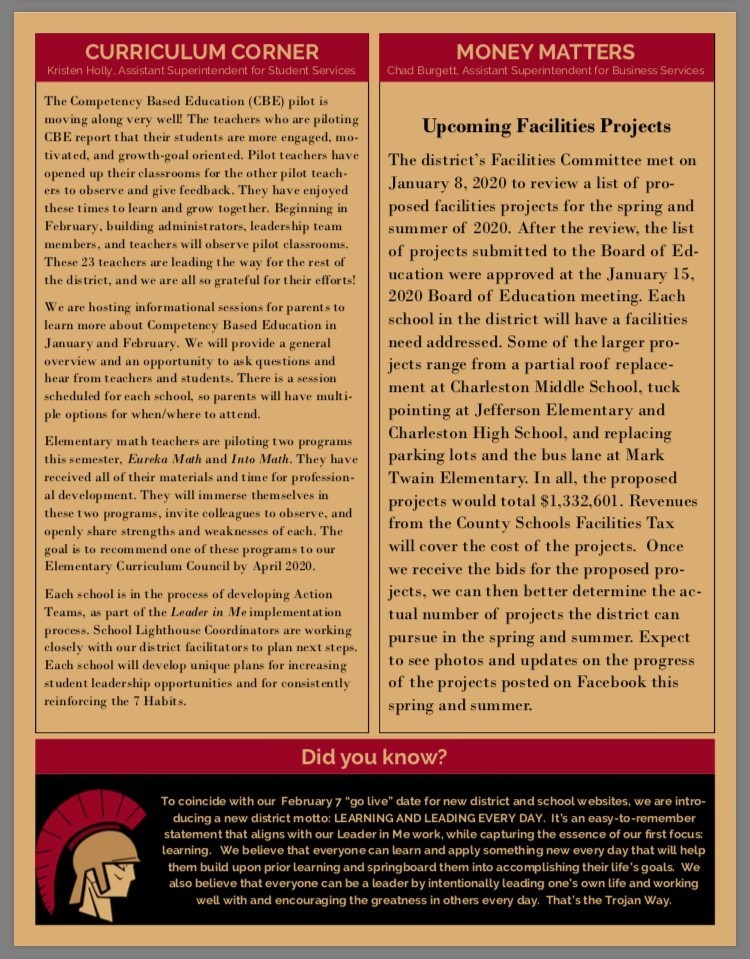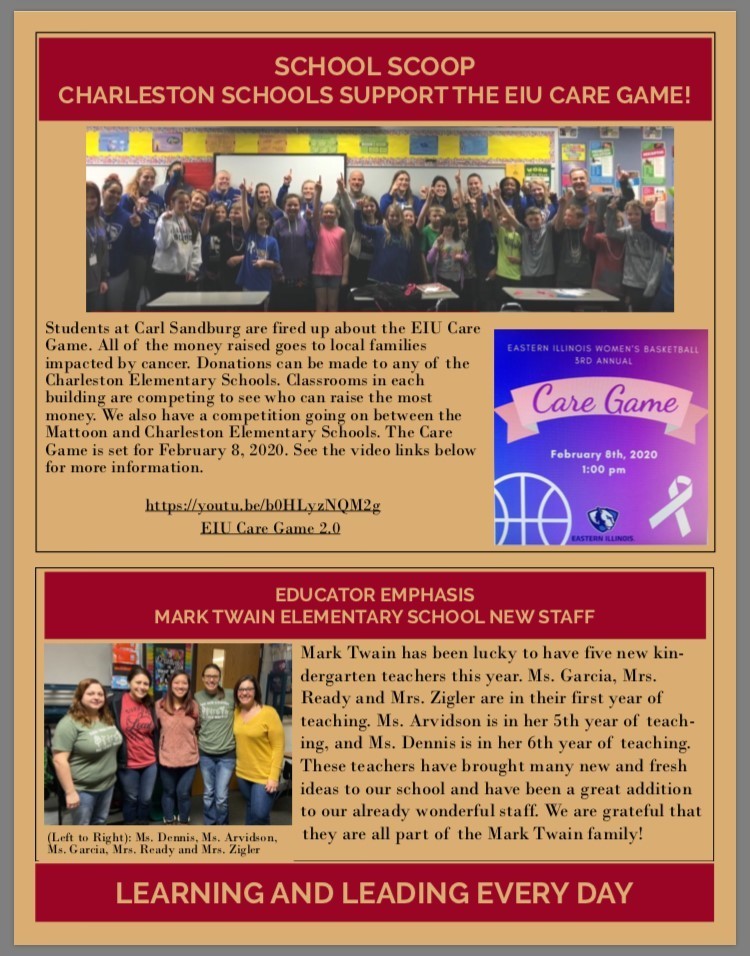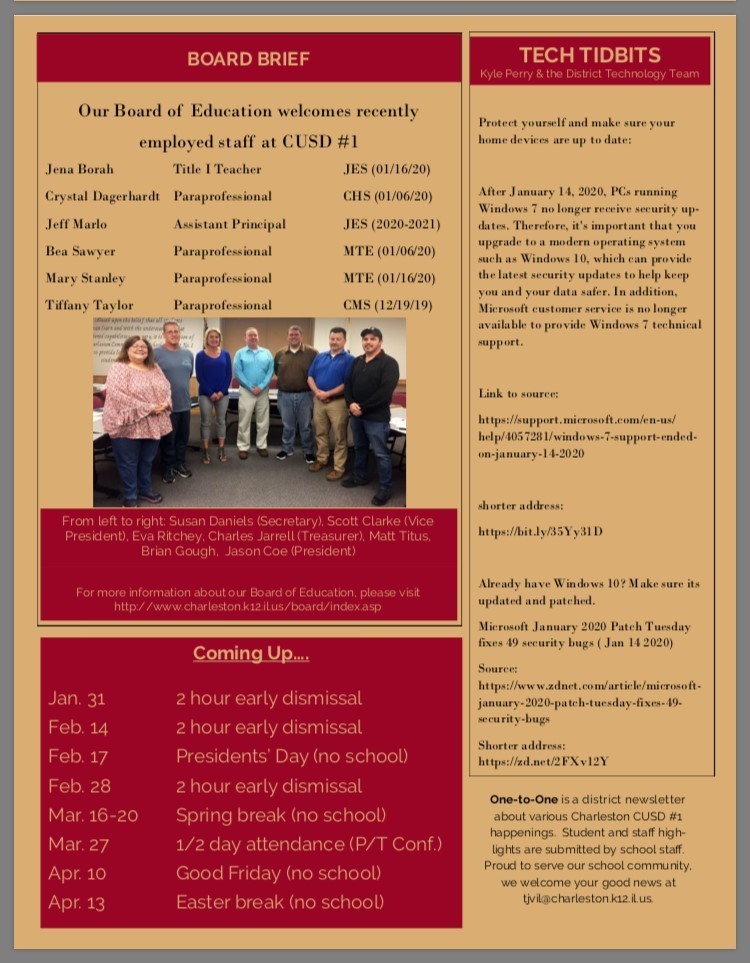 Dirty's will be hosting a Dine-N-Donate night on Monday, January 27th from 4:30-8:00pm to help support CUSD1 in the CARE game competition against Mattoon. The event is being staffed by all Charleston alumni, and Dirty's will donate back 10% of all sales to the cause for anyone that mentions the schools or the CARE game that night. Proceeds from the CARE game will be going directly towards the immediate needs of local cancer patients at SBL Regional Cancer Center.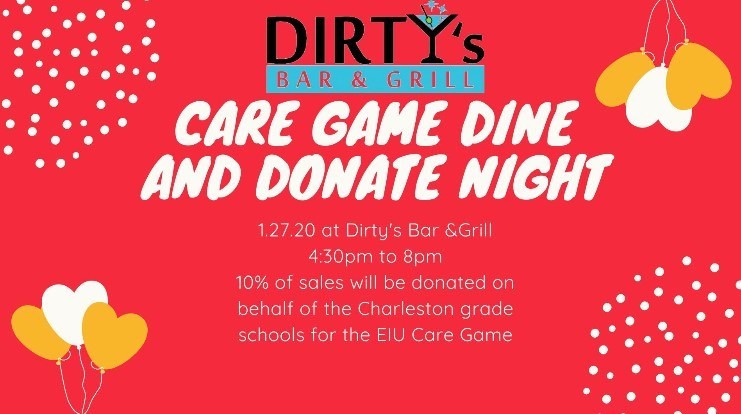 Charleston CUSD1 is now on Twitter! Follow us @CharlestonCusd1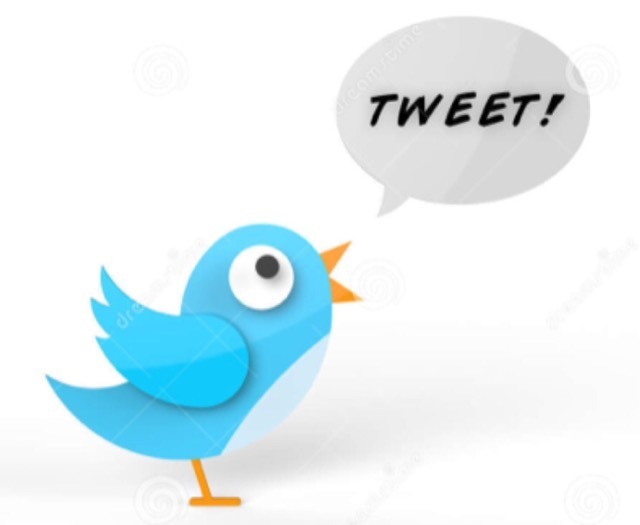 EXTRA! EXTRA! Charleston Middle School recently published its first edition of The Classroom Courier for the 2019-20 school year. Twelve CMS students currently write for the school newspaper, which is overseen by 7-Gold ELA teacher Mrs. Bickford. The paper covers the latest news about CMS and other schools in the district. The Classroom Courier is produced multiple times throughout the year.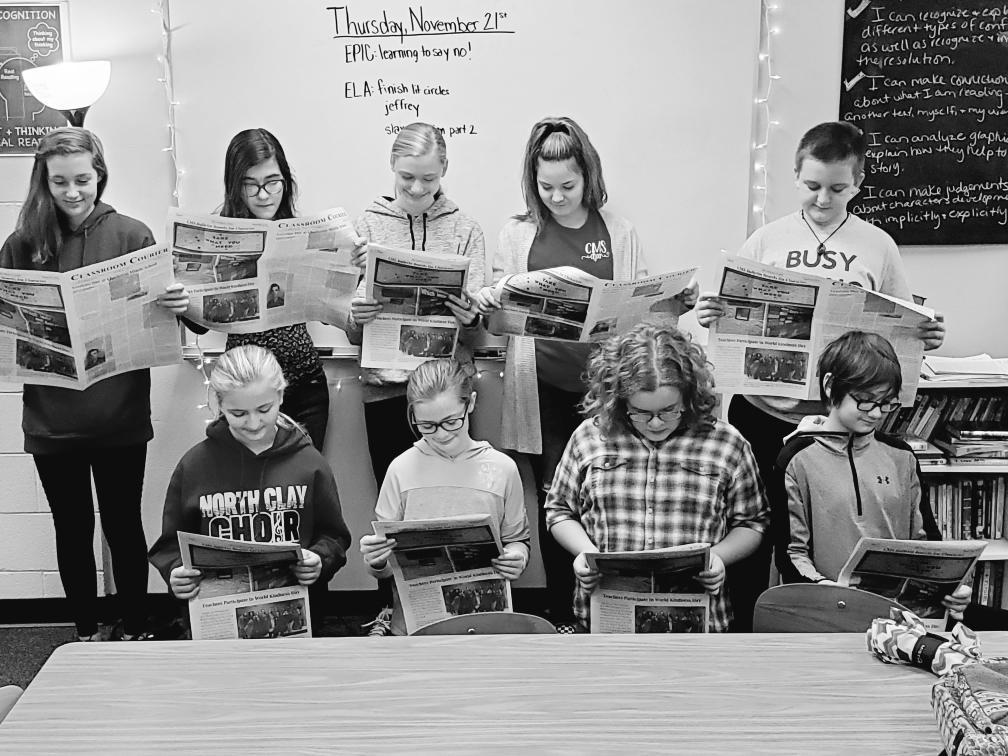 The support staff at Mark Twain are always willing to do whatever it takes for our students, even when that means playing musical chairs at our monthly celebration🎉 We appreciate all of our paraprofessionals, nurses, secretaries, and custodians!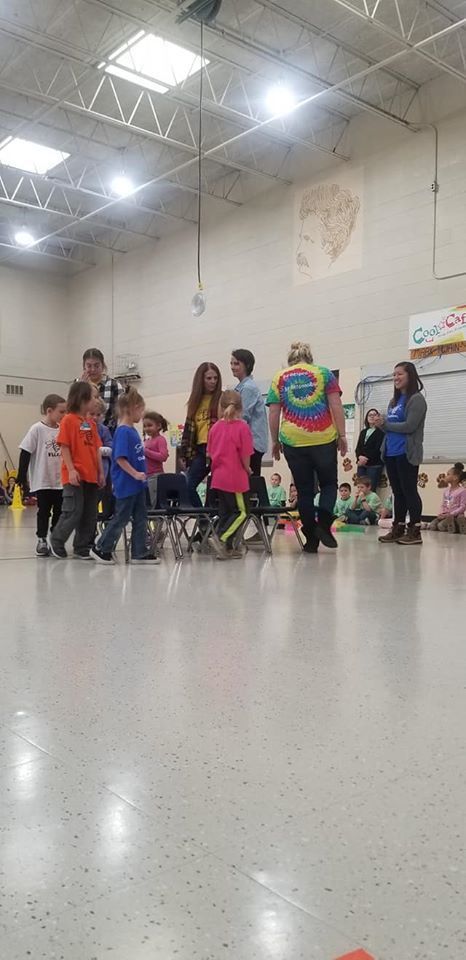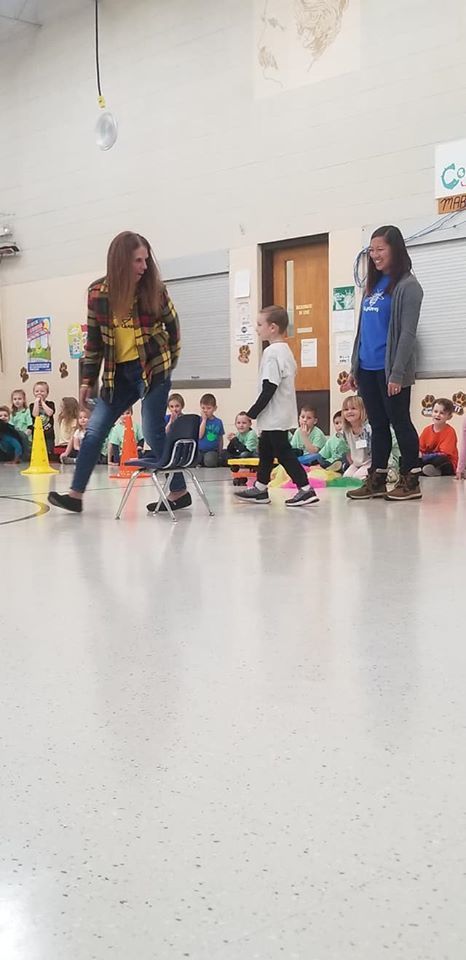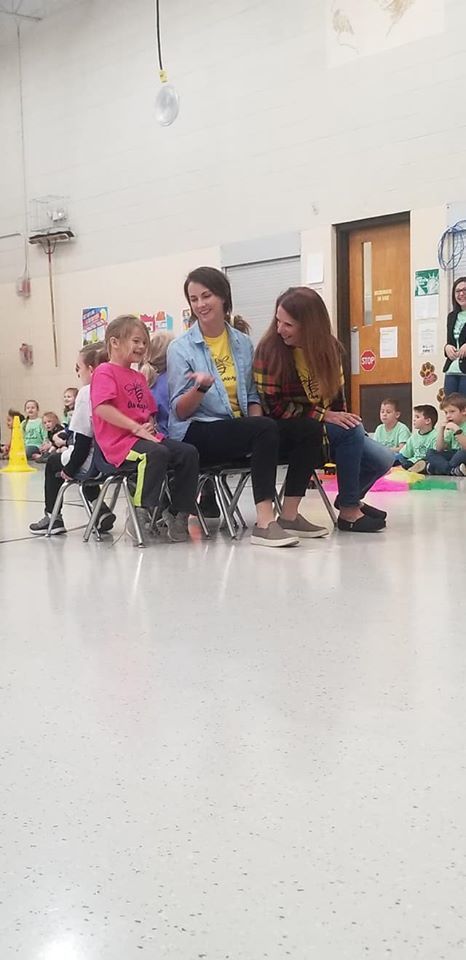 One of our many dedicated Educational Support Professionals at CUSD #1....this is Ms. Ferguson, head custodian at Charleston Middle School. She takes pride in keeping the school clean and safe for students, staff and visitors....and, yes, that smile is genuine....her positive attitude is contagious! Thank you, Ms. Ferguson, for helping us learn and lead every day!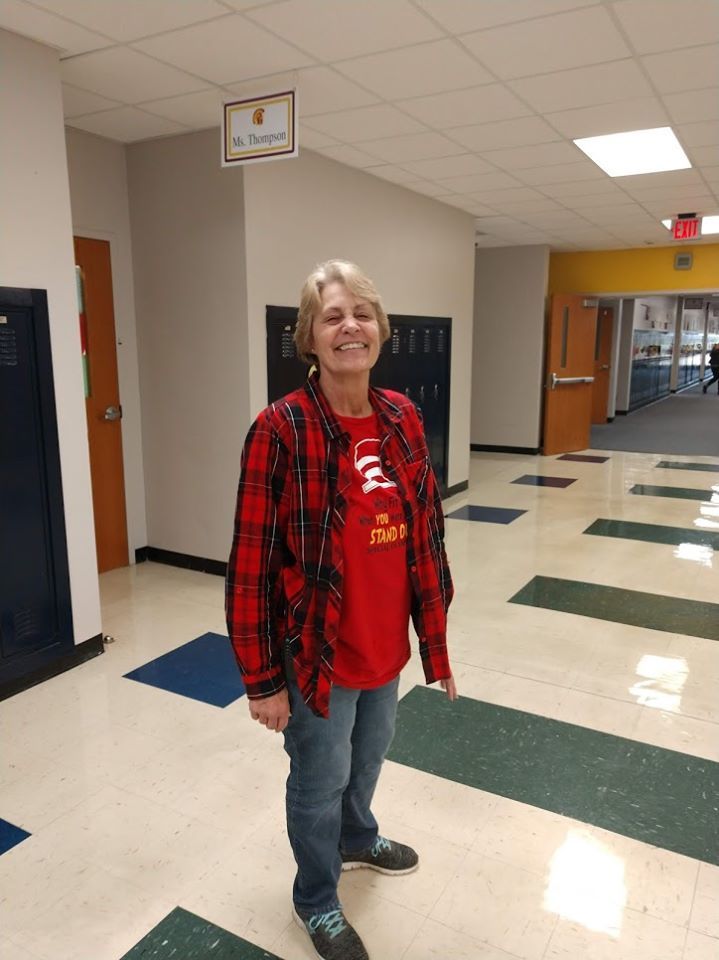 Another CHS student signs to participate in college athletics. Congratulations, Blake Wolfe!