This is an update on the status of our plans for the 2020-2021 school year. We made a commitment to monitor local COVID-19 case data and county risk levels. Due to the increased risk in our county, the district has considered multiple options. We acknowledge that no option satisfies everyone. The Charleston CUSD#1 Board of Education held an emergency meeting today to consider amendments to the school calendar. The Board of Education approved a calendar with a delayed start date and remote learning for all students. The calendar reflects the first day for remote learning on August 31. Students will participate in remote learning through first quarter. At that time, district officials will re-evaluate case data and risk levels and provide updates accordingly. A delayed start provides adequate time for the district to prepare student electronic devices and internet connectivity, and provide training to students and families on Empower, our new learning management system. The newly adopted school calendar is posted on our website. In the coming weeks, we will provide more information about how students and families will be provided with necessary technology, training and important information about remote learning guidelines. We recognize that, while not surprising, this news is distressing to many in our school community. We understand this presents a hardship to families searching for child care and balancing work and remote learning commitments. We remain dedicated to all students and will continue to strive to meet all students' educational needs during these times.

Emergency Board Meeting Access: To join from a mobile device (attendees only) +1-415-655-0001,,1262256610#47994759# US Toll

This is an update on the status of our plans for starting the 2020-2021 school year. Most are aware by now of our plans to welcome all staff back on August 11 and to welcome students back for in-person, on-site instruction on August 17. When we developed our plans back in early July, we also made a commitment to monitor our local COVID-19 positive case data and to remain flexible with our plans accordingly. Recent reports from the Coles County Health Department reveal increased cases, particularly among youth, and an "Orange" level, warning of increased COVID-19 risk in our county. Due to this increased risk, especially when considering the approaching return of higher education students to Charleston, school district staff are considering multiple options for beginning our year. Some of these options include (1) beginning the year, as planned in early July, with daily in-person instruction and a remote learning option (2) beginning the year under a hybrid schedule that limits the number of students in schools, (3) beginning the year under full remote learning for at least one quarter, and (4) beginning the year at a later date. We acknowledge that there are advantages and drawbacks of each option, and no option will be pleasing or satisfactory to all. The complex work of balancing the safety of our school community with what's best for student learning is nearly as impossible as reconciling community involvement relative to continually shifting science and data. We do, however, continue to strive to consider options from various perspectives including students, staff, parents and community members. Our primary aim is to arrive at a decision that represents our best collective efforts in returning to learn with the safety, health and well-being of our students, staff and entire school community as our highest priority. While such a process takes time, we also recognize that time is of the essence, as we all want to know sooner than later, with certainty, what the future holds. For now, securing child care, if needed, would be a proactive way for parents to prepare in the event that a return to remote learning days is warranted. We will provide more information as soon as we can. Until then, remember the 3 W's of "Wear a mask, Watch your distance, and Wash your hands."

Just a quick reminder that face coverings are required to be worn in order to access a CUSD1 school building at this time. Thank you for your cooperation and understanding!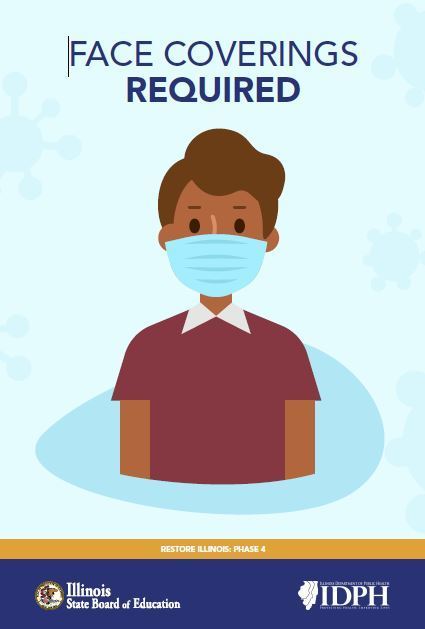 Charleston School Community, District staff continue to work hard this summer to prepare for the safe return of students and staff for the 2020-2021 school year. While we are proud of our collective work (within our control) and are looking forward to seeing everyone in our schools soon, we recognize that external circumstances (outside of our control) will likely impact the status of how we begin the school year. Publicly available, local COVID-19 data is monitored by district staff daily, and positive cases are increasing locally. Aside from any debates about the data, district officials want to remind parents of our youngest students to have a plan for securing child care in the event it is needed as we approach the August 17 in-person attendance date and for any time after that. Although today we intend to open for on-site, daily instruction, data and contact tracing indicators may dictate that any classroom, school or entire district could be closed for any given period of time. Having a child care contingency plan in place now can help to prevent added stressors on families in the event classrooms or schools are closed for on-site instruction later. Thank you and stay well. Todd J. Vilardo, Ed.D. Superintendent of Schools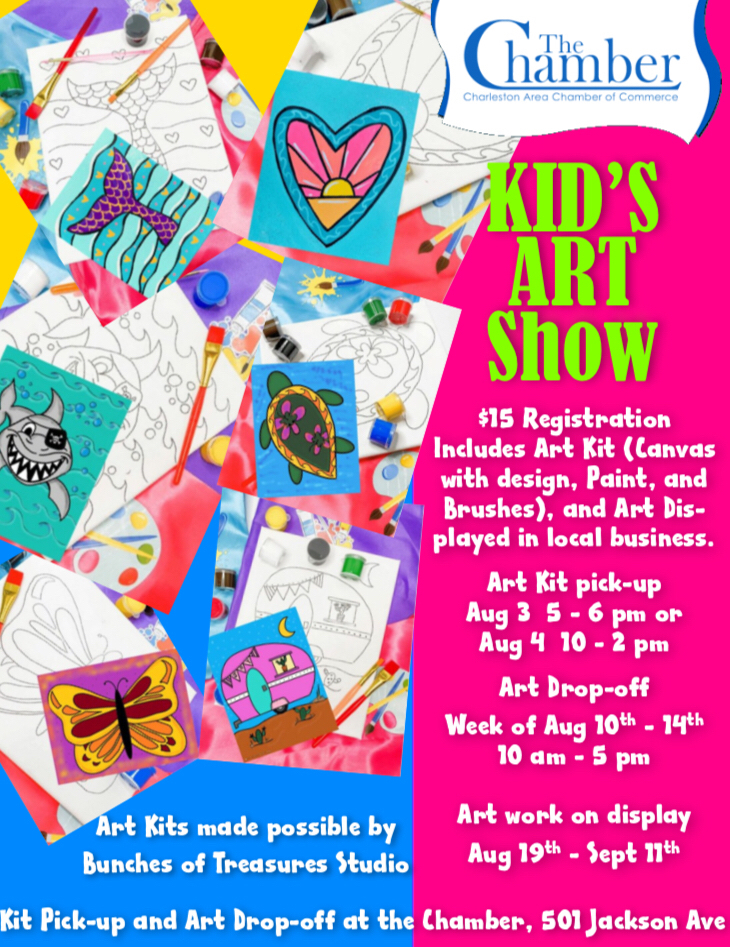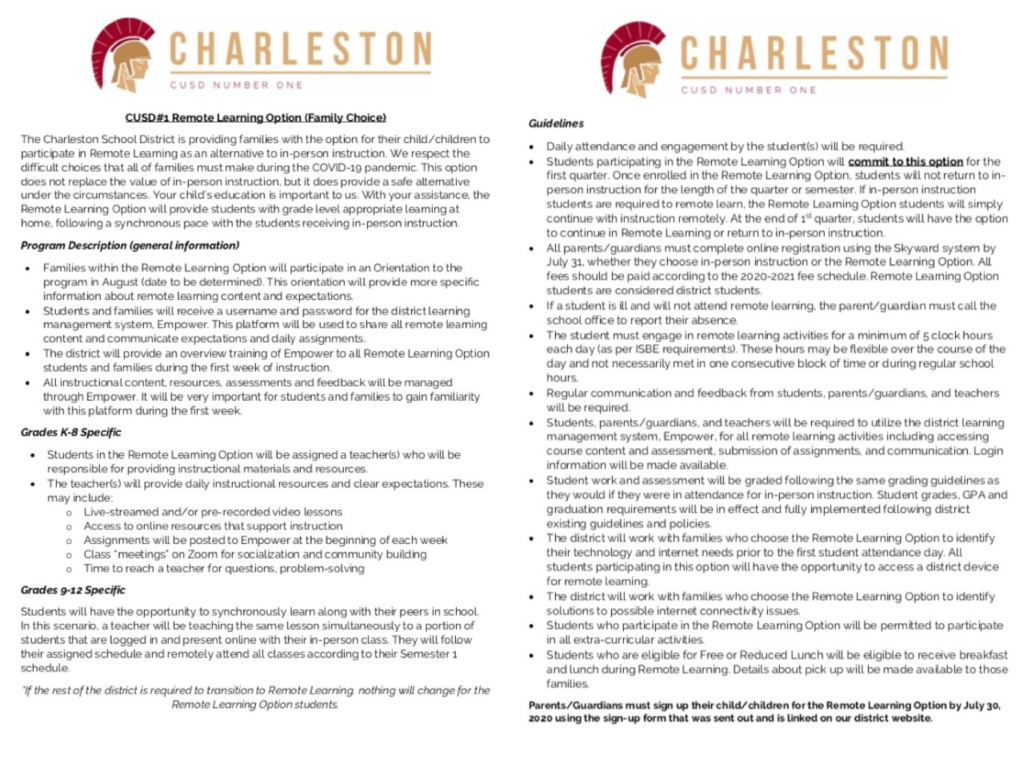 We would like to acknowledge and congratulate Kim Traub today for 40 years of service here at Charleston CUSD1's Central Office! Her knowledge and experience are unmatched, and we cannot thank her enough for her continued work in this community over the last four decades.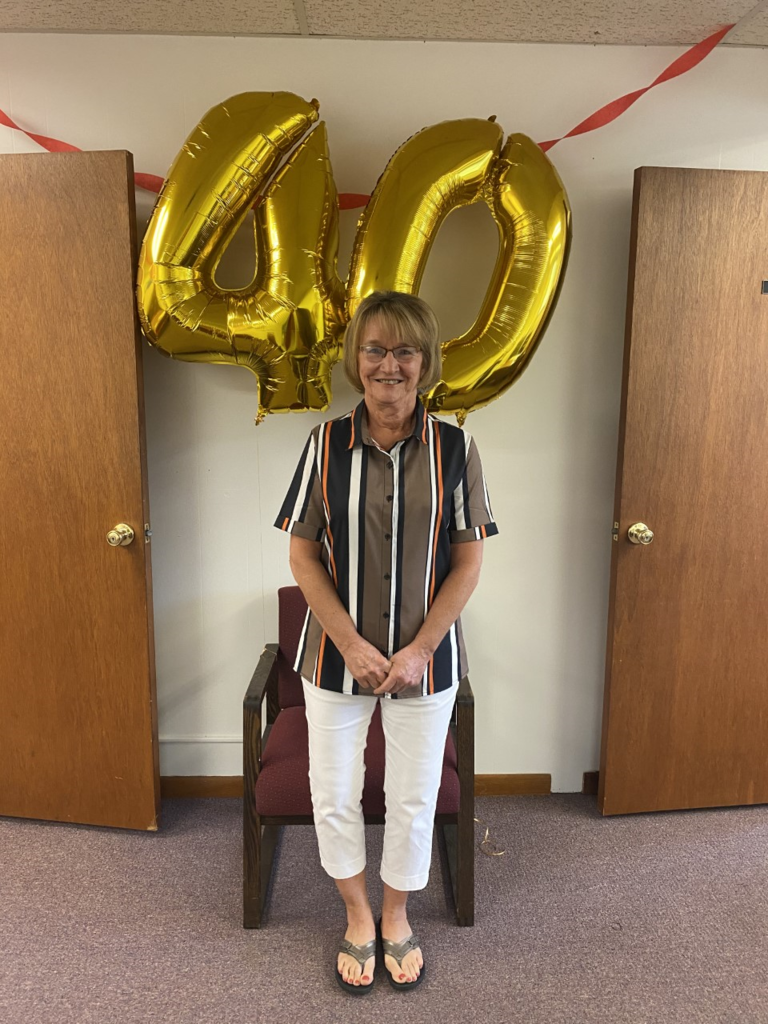 **UPDATE** The offsite access to listen to the Charleston CUSD#1 School Board Meeting tonight has changed due to technical difficulties. The updated number is as follows: Join by phone +1-415-655-0001 US Toll Access code: 1261161725 (Press pound # after that)



As we await additional guidance from the Illinois State Board of Education and the Illinois Department of Public Health about re-opening schools, we are gathering input from parents to help us plan for the upcoming year. Thank you for taking no more than 5 minutes to answer this brief survey:
https://www.surveymonkey.com/r/3SH3DWZ

The Charleston Public Library is starting their Summer Read program on Monday. (June 22, 2020)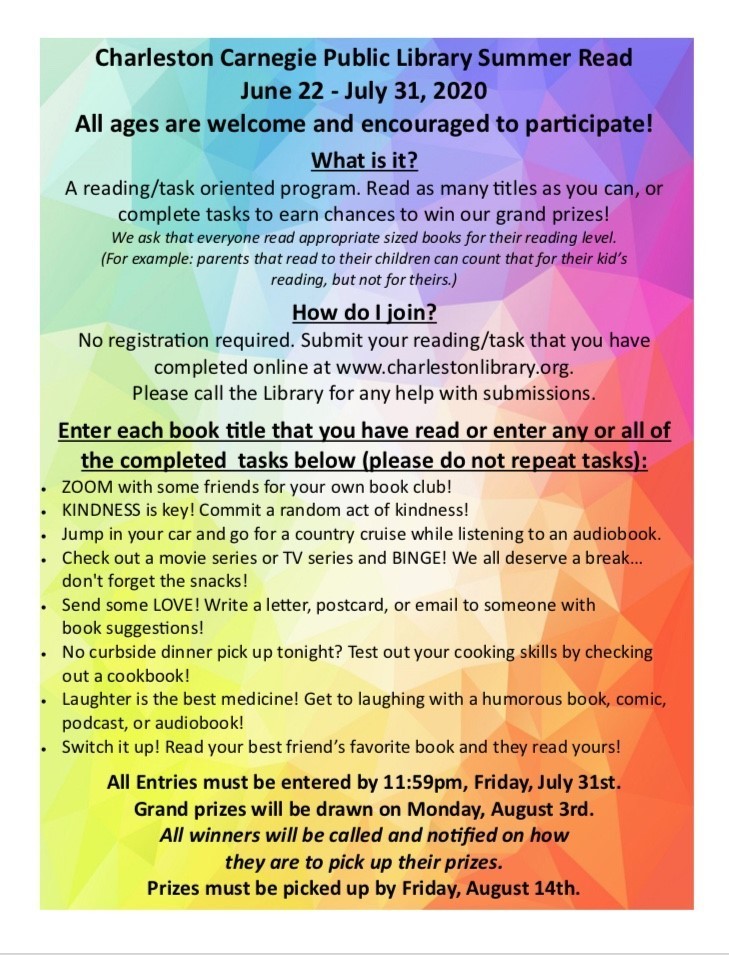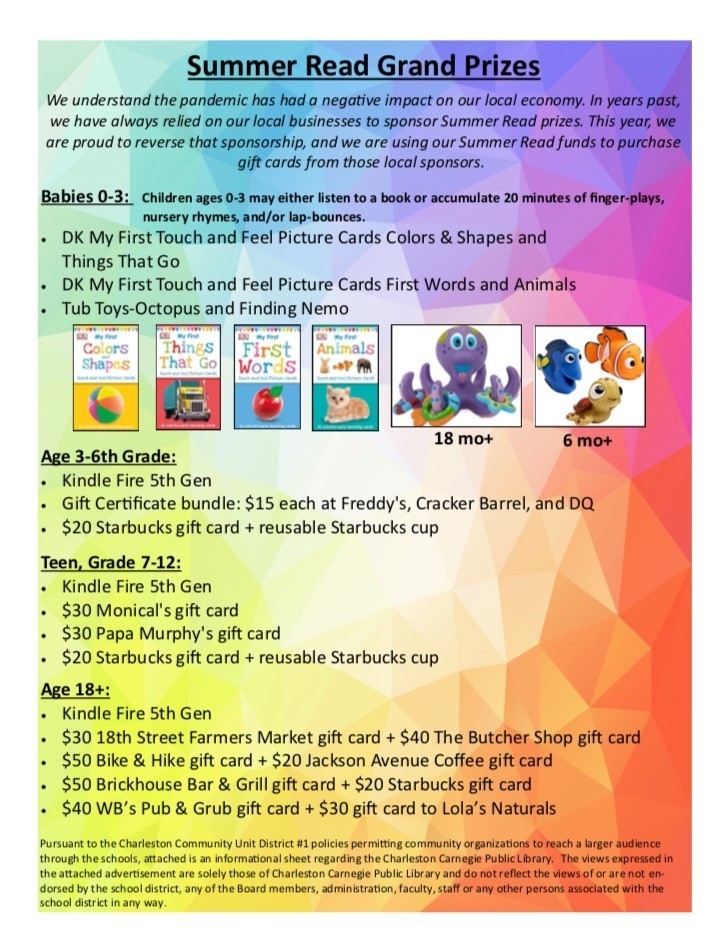 Do you need help this summer teaching your children math, reading, and science? Are you looking for ways to support your child's social skills and emotional growth? If so, WILL-TV is hosting a Facebook Live event called "Surviving Summer: A Conversation for Parents of Young Children" on Thursday June 18th at 6:00pm. You can get your questions answered by a panel of experts in early learning, special education, psychology, and home schooling. Parents are able to submit questions by leaving a comment on the Facebook Live event thread, or you can also text CHILD to 217-803-0730. Link to event:
https://www.facebook.com/IPMeducation/posts/3279115765472602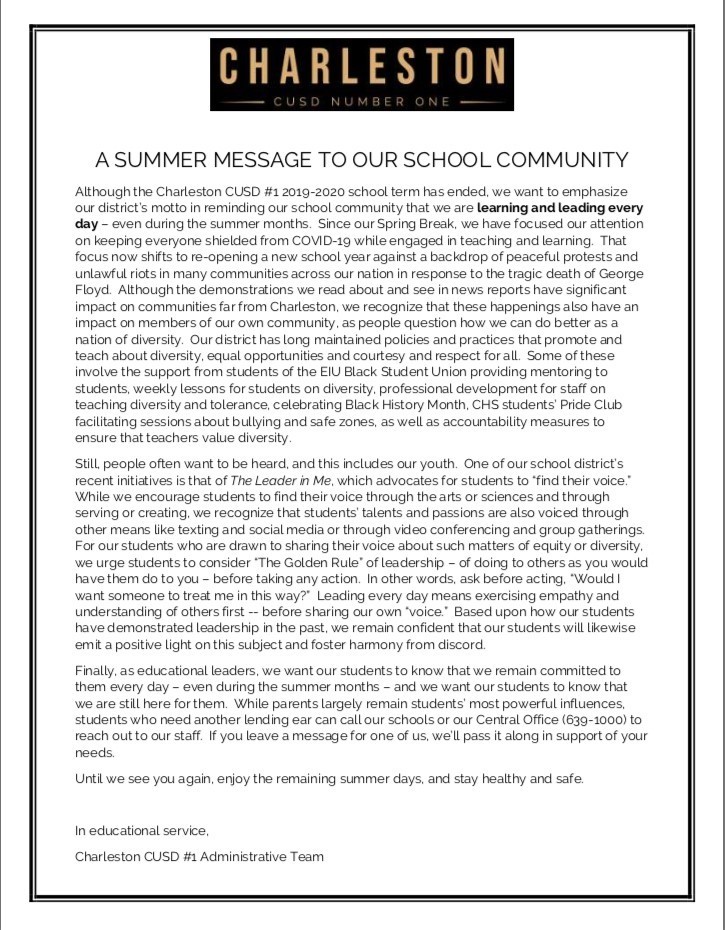 Congratulations to Charleston CUSD #1 teacher DEBRA BELLEAU who was selected to receive an inaugural ROE #11 RECOGNITION OF EXCELLENCE AWARD. Mrs. Belleau taught at Jefferson Elementary School and served in our district for 25 years! Way to go, Mrs. Belleau!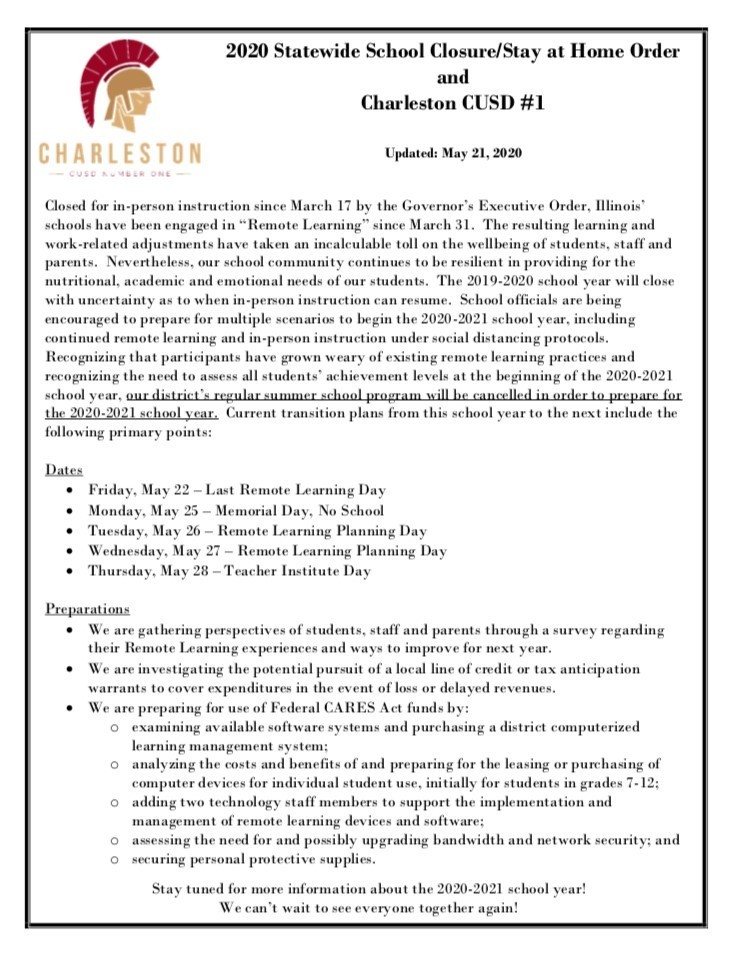 EIU Summer Meals Program