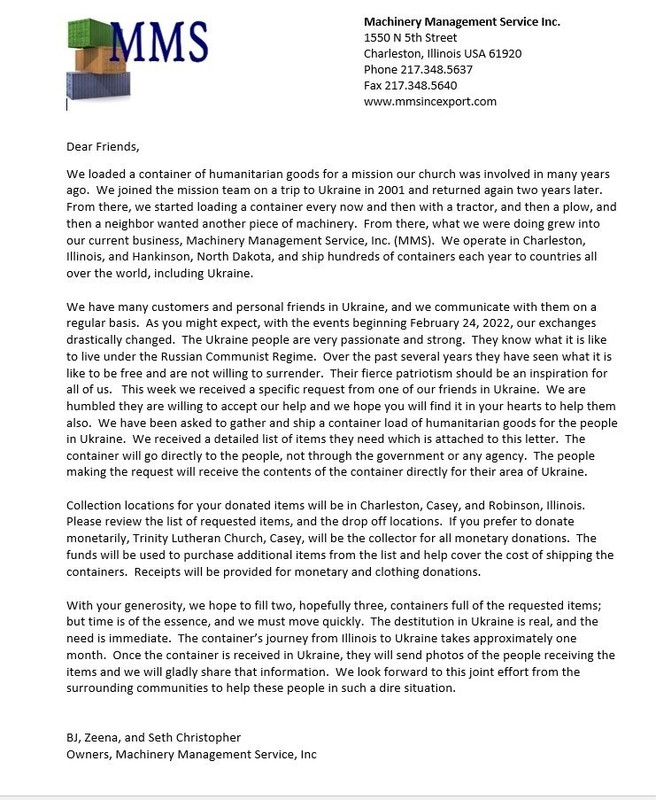 Requested Items for Humanitarian Aid to Ukraine:
Any clean clothing- men, women and children- especially undergarments and socks are much appreciated. Used or unused but please make sure it is clean. Please make sure it is packed well into a box of good condition (makes easier and more efficient loading and unloading).
All manner of footwear is needed and all sizes. We are coming to the summer season, but it is doubtful that the supply chain will be in full working order yet by next fall, so any and all will be needed- regardless of seasonality.
Canned food (fish, meat, vegetables, fruit, instant breakfast), sugar, sunflower oil (this is the preferred oil in Ukraine) tea, coffee (instant), chocolate, cookies, tomato juice, pasta, peanut butter. Any food that will last without refrigeration. We will accept any sizes but the ideal would be smaller portions and more of them so we can distribute to more people.
Infant formula from 0+, cereals for infants, baby food (jars), juice-yogurts for infants and young children.
Diapers for children size 1-6, wet wipes, dry wipes, adult diapers, toothpaste, toothbrushes, shampoos, soap, baby creams, laundry detergent, dish soap, disposable razors, feminine hygiene products, liquid or bar type soap, toilet paper. Please no partially used hygiene items.
Bandages, peroxide, syringes, catheters, over the counter pain relievers of any kind for all ages. Children's and adult vitamins. Antiseptics.
If we can get a container loaded early April- will still allow for planting of home gardens, they live off their gardens, so this year garden seeds are more important than ever.
The cleanup, rebuilding, and repairing are going to be monumental. Basic hand tools (of all types- hammers, saws, crow bars, screw drivers). Rechargeable battery powered tools. They have excellent sources for repairing battery operating tools- so even if tools are not in working order- these can be repaired in Ukraine. The batteries however cannot be repaired, so if the batteries are bad, please send the tool but not the battery. Anything with an 'electric cord' is discouraged - as the electrical system is different in Ukraine, but battery powered tools are fine and much appreciated. Simple things like rakes, shovels, wheelbarrows are also going to be in high demand. Nails and other construction fasteners (lag bolts, construction screws etc).
Tents, sleeping bags, sleeping mats, folding beds, gasoline powered generators, rechargeable flashlights, used bicycles even non- working items like mopeds- very easily repaired here.
Collection will begin MONDAY, APRIL 4 and will conclude on WEDNESDAY, APRIL 13.
MMS – Charleston
1550 North Fifth Street, Charleston, IL 61920
Monday – Friday 9:00 a.m. – 3:00 p.m.
Zeena Christopher
(217) 549-8168
Trinity Lutheran Church
201 East Colorado, Casey, IL 62420
Tuesday 4/5 Friday 4/8 Saturday 4/9 Tuesday 4/12
11 a.m. – 1 p.m. 11 a.m. – 1 p.m. 10:30 a.m. – 1:30 p.m. 11 a.m. – 1 p.m.
Please contact Tracey Reed at (217)260-6843 if you have questions or to make alternate arrangements for drop off at Trinity Lutheran.
Our Redeemer Lutheran Church
801 West Emmons, Robinson, IL 62454
Monday 4/4 Thursday 4/7 Saturday 4/9 Monday 4/11
11 a.m. – 1 p.m. 11 a.m. – 1 p.m. 10:30 a.m. – 1:30 p.m. 11 a.m. – 1 p.m.
Please contact Randy Stephens at (618)562-7942 if you have questions or to make alternate arrangements for drop off at Our Redeemer.
Monetary donations should be made payable to Trinity Lutheran Church. Checks may be dropped off at one of the collection sites or mailed to Trinity Lutheran Church, Post Office Box 295, Casey, IL, 62420. Please make the notation UKRAINE in the memo field on your payment. If you have any questions regarding a monetary donation, please contact Tracey Reed at (217) 260-6843.
Please watch the MMS Friends & Family Facebook page for updates
Thank you for your generosity!