Charleston School District Food Box Project
A total of 48 food boxes were prepared for distribution on July 8th, 2020. The food boxes were
distributed on July 10th to the families of children who qualify for the Charleston School District's free and reduced-cost lunch program, and who were determined to be most in need over the summer. Special thanks to: Ron Diepholtz and Diepholtz Auto for funding this program, as well as providing a truck for food transport, making some local food purchases, and a boxing crew. Empty boxes were provided by Ruler Food and County Market. Special thanks also to: Chad Burgett, Assistant Superintendent of Schools, and the support staff at district schools for identifying and contacting the food box recipients; CMS Principal Robert Lynn for allowing the boxing and distribution to take place at the Middle School; and to the district principals and superintendents for distributing the food boxes. Thanks to Scott Foster of the Charleston Area Churches Food Pantry for placing the food order, and to his volunteers for sorting and helping to load the food upon arrival from the Food Bank. Special thanks to Rotarians: Rich Wandling for working out purchasing food from the Eastern Illinois Food Bank through the Food Pantry, and for transporting some of the unused boxes to CCAR recycling; Granville Colvin for collecting most of the empty boxes; Tim Silence for transporting most of the empty boxes; Bill Warmoth for documenting the food box assembly; and Mike Watts, Charleston Rotary Club, Project Coordinator.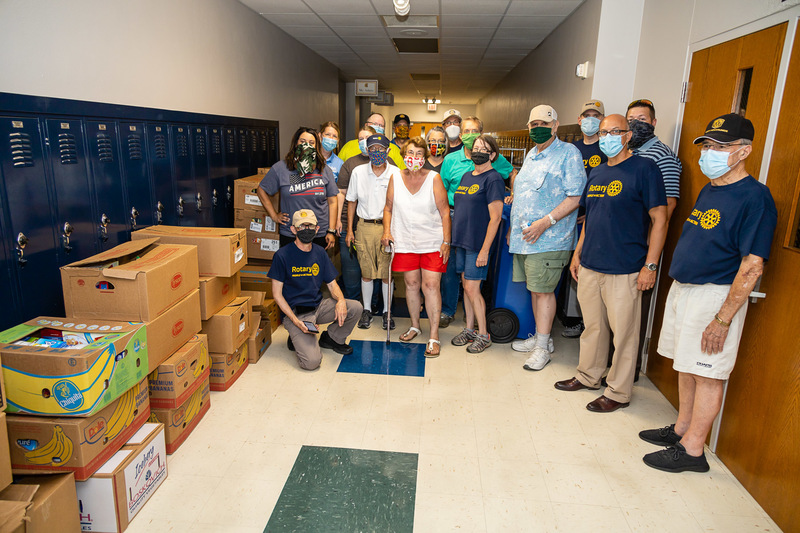 Charleston School District Food Box Distribution Crew, left to right: Chad Burgett (Assistant
Superintendent & co-coordinator), Denise Titus (Principal Mark Twain), Todd Vilardo (Superintendent & Rotarian), Aaron Lock (Principal CHS), Robert Lynn (Principal CMS), Eddie Williams (Principal Carl Sandburg), and not picture (photographer) Rob Ulm (Principal Jefferson Elementary & Rotarian).