Before the start of the 2023-2024 school year, our district made the collective decision to hire additional security for our buildings. It was initially planned to only hire two School Security Officers. However, after interviewing the top five applicants, the decision was made to go ahead and hire all five of them because each candidate not only exceeded our expectations as far as experience goes, but they all just seemed like a perfect fit for the job too. Many of you in our community probably already know or recognize at least some of these men from their various prior local law enforcement roles right here in Charleston, IL. We think you'll agree that they make a pretty great team with all of their combined knowledge and experience.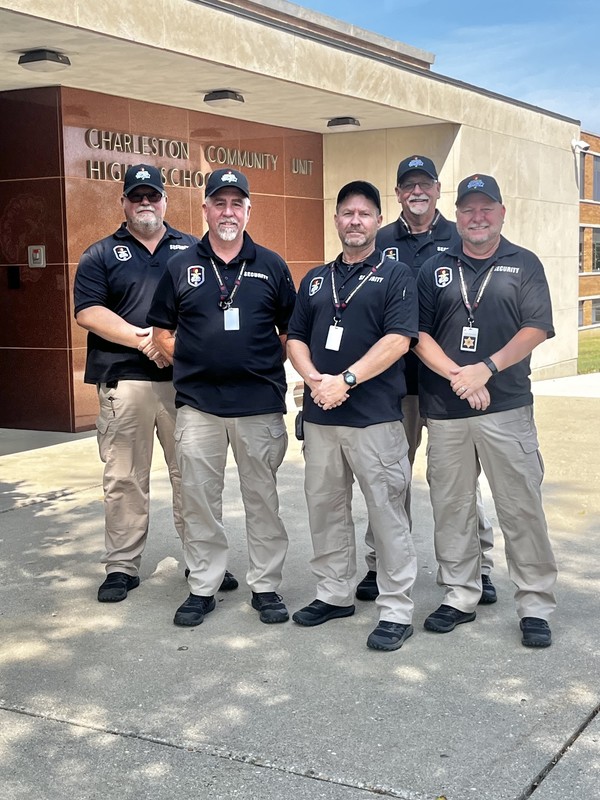 Pictured Left to Right: Phil Lang, Stu Myers, David Logue, Hank Pauls, & Tad Freezeland

Tad Freezeland began his career in law enforcement back in 1993 with the Coles County Sheriff's Department. He retired from there in 2019 after serving as Sergeant for 7 years, Lieutenant for 15 years, and his last 5 years there as Chief Deputy. Since retiring from the Coles County Sheriff's Department, he has been employed by the Arcola Police Department. He served as Chief of Police there from 2019-2022, and he is still currently working there part-time.
David Logue comes to us after spending the last 24 years employed by the Illinois State Police Department. From 1998 until 2022, he spent 6 years on patrol, 5 years on the SWAT Team, and his last 13 years as an ISP Special Agent.
Phil Lang began his law enforcement career with the Coles County Sheriff's Department back in 1989. His employment there was short-lived only because he accepted another position with the Eastern Illinois University Police Department that same year. During his tenure at EIU, Phil was the patrol commander and eventually served as their Lieutenant, which was his role up until he retired in 2015. He also has a military background, serving in the Air Force for 8 years. Additionally, he has been employed as a Security Officer for Allied Security Systems for the past 4 years.
Stu Myers also started off his career in law enforcement at the Coles County Sheriff's Department back in 1995. He worked there until 2004, when he then transitioned to the Charleston Police Department as a patrolman. In 2007, he became a Crime Scene Investigator. He had a total of 11 years working in investigations at CPD before retiring in 2019. After retiring from police work, he went on to work at Sarah Bush Lincoln Health Center as a Security Officer there.
Hank Pauls started and ended his law enforcement career with the Charleston Police Department. He began working there as an intern back in 1979. Then, starting in 1980, he took on administrative duties for the department for a number of years, followed by 8 years as a patrolman, 8 years as a Sergeant, and then finishing his career in 2008 as Lieutenant. Additionally, he spent many of his years at CPD being patrol commander and working the midnight shift.
Please join us in giving all of these gentlemen a warm welcome to our school community. We believe we couldn't have asked for any better candidates for this new position.