WELCOME TO MARK TWAIN SCHOOL!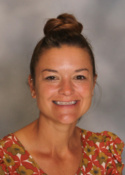 My name is Denise Titus, and I am the principal of Mark Twain Elementary School. As a Charleston native and parent of school-aged children, I could not be prouder to lead this building where it all begins for students.
I am looking forward to a wonderful school year. My goal this year is to lead the building in such a way that all students learn and grow to their greatest potential. The Pre-K and Kindergarten years are pivotal in the realm of child development, and the staff of Mark Twain is committed to providing a strong foundation for your child. As the building principal, I am devoted to not only strengthening the academic skills of children but also their social and emotional skills. Teaching to the whole child is of utmost importance and will drive the programs we provide school-wide.
I look forward to partnering with you as we walk side by side on this journey for the school year. Please feel free to contact me by phone (217) 639-8000 or send me a message below.